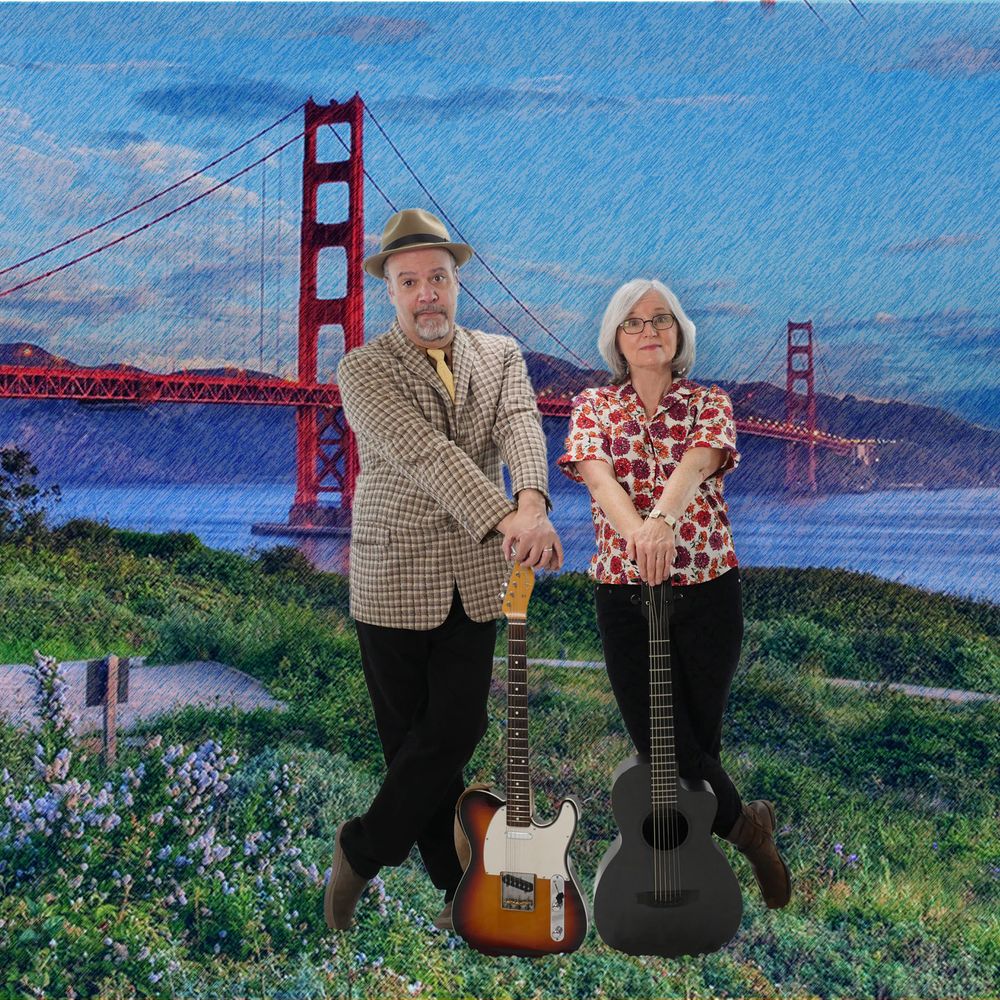 Claudia Russell and Bruce Kaplan - Bio
California singer/songwriter Claudia Russell and her trusty sidekick Bruce Kaplan traverse a wide Americana landscape, stopping at wondrous musical landmarks along the way, tipping their hat to string bands, blues divas, jazz cats, Village folkies, Bakersfield cowboys and Laurel Canyon troubadours. Driven by Claudia's expressive voice and distinctive guitar style, it all comes together beautifully.
Claudia has a knack for crafting tightly written songs that carry you to the sweet spots of life. Bruce's melodic accompaniment, on mandolin and electric guitar, is spot-on. All of this is served up with a generous helping of homespun humor and shaggy dog stories, making for a heartfelt and humorous show of deeply engaging music. And audiences and critics have taken notice.
Indeed, the Milwaukee Journal-Sentinel wrote, "Russell has a voice that was born for folk music – she breaks hearts." Russell has won numerous other accolades including Best New Artist from WUMB FM in Boston, Best Musician in the East Bay Express Reader's Poll, 2x Kerrville New Folk Songwriting Finalist, and high praise in Sing Out, the San Francisco Chronicle, and the Boston Globe. Paul Zollo, a senior editor of American Songwriter magazine, called her latest CD, All Our Luck Is Changing, "a masterpiece." Lovers Tree, their fifth and most recent CD, was produced by Grammy winning Berkeley Bluegrass icon Laurie Lewis and hit #5 on the national Folk DJ Charts.
2023 marks the duo's the 23rd year playing together with almost 1000 shows under their belt. Russell and Kaplan have toured across the country, performing in barns, coffeehouses, churches, museums and living rooms, as well outdoors at festivals including Kerrville Folk Festival, Boston Folk Festival, the New Bedford Folk Festival, Black Hawk Folk Festival, and concert appearances at major venues such as McCabe's, Club Passim, The Turning Point, and more than a dozen appearances at the Freight.
Claudia and Bruce have sung and played onstage alongside John Gorka, Don Henry, Tish Hinojosa, Christine Lavin, Laurie Lewis, Maurice Tani, Peter Rowan and many other talented performers.
Before forming their duo and moving to the Bay Area, Russell and Kaplan lived in Los Angeles where they each played in numerous bands, performing and recording as active members of the LA indy music scene as members of Maggie's Farm, the Toasters, The Tearjerkers, the Tequila Mocking Birds, Annyland and the Life Is Grand Band.
"Making music has always been our favorite thing to do, and we put a lot of love into it. In our 20s, I suppose we both wanted to become famous. Now, our mission is simply to move people with our music and have fun." says Russell. Kaplan adds, "But, playing in a band with one's spouse is not without its hazards. Some couples argue about sex or money. We argue about song keys, set lists, and 'who stole my capo?'  All in all, though, we're very lucky to have found each other."
And so are we!
Visit www.claudiarussell.com to have a closer look/listen to this unique duo. Or check out their YouTube Channel at https://bit.ly/2SarrtL